House Clearance
Need a house clearance? If you've got a lot of clutter in your home that needs removing fast, we're here to help.
Whether you're clearing out your attic, an entire property or you've undergone a house refurbishment, use our rubbish removal team for efficient house clearances in London, Surrey and Sussex.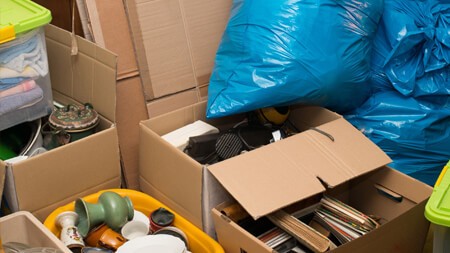 Domestic Waste Clearance Straight from Your Home
Want us to take away old furniture, DIY waste or junk you no longer need? Our domestic property clearances cover all your needs, from household waste collections to removing a few bulky items.
It's easy to accumulate unwanted items in the home, storing anywhere from underused rooms and cupboards to sheds and loft spaces. This includes broken appliances and equipment, old chairs and cardboard boxes full of things which are gathering dust on a shelf.
It can be hard to face clearing a house by yourself when you'll have to make multiple visits to the tip or pay the price of hiring a skip. We make things hassle-free for you, offering affordable, convenient rubbish clearances for properties of all shapes and sizes.
Robert was on time and did a quick and thorough job clearing the waste from our garage. We are very grateful and really appreciate his availability on short notice.
We needed some old decking collected from a site we were working on and Robert was was able to help.
It was a nice and easy transaction and everything was left clean and tidy following the pickup. We would definitely use RJ Waste again.
Great company, the guys were really friendly and polite, they came on time and finished quick, hard working and very professional, also they did tidy up the place after finishing, I would recommend RJ Waste Clearance to anyone.
During the lockdown,  I had a thorough sort out of the entire house and I had all sorts of stuff that I just wanted removed as quickly as possible. Without the space for a skip, I wanted someone with a caged truck who could just wait whilst I loaded it. Bobby was really helpful – called me when he was 10 minutes away – and loaded up the rubbish for me. Such a simple process – no hassle.
Quotation price was very reasonable, arrived on time and were very polite. Great company and will definitely use them again.
I would like to say that we were thoroughly impressed with the professionalism attitude and the all round service we received from the team of RJ Waste Clearance. The job was completed within a short timescale which in end saved us money. I would recommend their service to any friend, family or business partner!
Neil (CEO Focus Recruitment Consultancy)
Fast & Efficient Household Clearances
When you get in touch with our team, just let us know what you need and how much rubbish there is to clear. We can then provide a free no-obligation estimate. Our friendly and professional team will come out to your property, where they'll check what needs to be taken away, before clearing, collecting and disposing of your household waste in an environmentally friendly manner at approved recycling facilities.
We do all the heavy lifting for you, removing your items quickly and efficiently so that you can enjoy a tidy home. We're extremely careful not to damage any part of your home during the job, especially when it comes to furniture removals. We also provide dedicated services for your general rubbish, garden waste disposal and building waste clearance needs.
Wait & Load Collections
Don't need our help with heavy lifting? You may prefer to use our wait and load collection services. We'll drive up your property within a pre-agreed timeframe, and you can load your household items into the back of our vehicle.