Garden Clearance
Need expert help with a garden clearance? Your garden is a place you should be able to relax, socialise and spend time in, but this can prove difficult if you have a lot of waste which needs removing from the space.
Whether you're looking for assistance with a shed clearance or you've built up some green waste after a landscaping project, RJ Waste Clearance can help. In addition to our house clearance expertise, we're here for garden waste removals near London, Sussex and Surrey.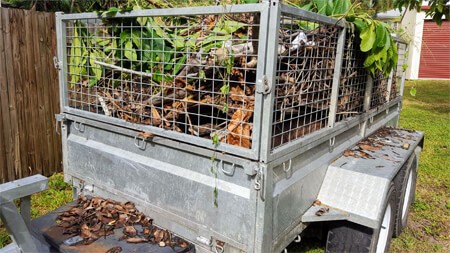 Professional Garden Waste Clearance Services
It's easy for gardens to become overgrown. Maybe you've just moved into a property and want a garden cleared so that you can re-landscape the area.
Or perhaps you've already been working on your garden, and now have piles of leaves, twigs, soil, grass, clippings and more that need clearing.
You may even have a shed overloaded with old machinery and tools you no longer need or have been using your garden to store old household junk.
This wastes valuable space you could be using for something else. Whatever you need us for, we'll clear everything, returning your outdoor spaces to you as a blank canvas.
Robert was on time and did a quick and thorough job clearing the waste from our garage. We are very grateful and really appreciate his availability on short notice.
We needed some old decking collected from a site we were working on and Robert was was able to help.
It was a nice and easy transaction and everything was left clean and tidy following the pickup. We would definitely use RJ Waste again.
Great company, the guys were really friendly and polite, they came on time and finished quick, hard working and very professional, also they did tidy up the place after finishing, I would recommend RJ Waste Clearance to anyone.
During the lockdown,  I had a thorough sort out of the entire house and I had all sorts of stuff that I just wanted removed as quickly as possible. Without the space for a skip, I wanted someone with a caged truck who could just wait whilst I loaded it. Bobby was really helpful – called me when he was 10 minutes away – and loaded up the rubbish for me. Such a simple process – no hassle.
Quotation price was very reasonable, arrived on time and were very polite. Great company and will definitely use them again.
I would like to say that we were thoroughly impressed with the professionalism attitude and the all round service we received from the team of RJ Waste Clearance. The job was completed within a short timescale which in end saved us money. I would recommend their service to any friend, family or business partner!
Neil (CEO Focus Recruitment Consultancy)
Easy, Hassle-Free Waste Removal Solutions – How It Works
Our friendly, reliable garden clearance team makes things easy for you from start to finish, making sure the process is stress-free throughout. Our services are often much cheaper than getting a skip because you won't have to think about the costs associated with hiring one or the council permits required.
When you get in touch, we'll provide you with a free, no-obligation quote based on the information provided. We can then get your garden clearance scheduled at a convenient time for you.
On the day, we'll do everything for you, however big or small the task at hand in your garden. This saves you time and energy knowing we're clearing everything which needs to be removed, leaving the area free of rubbish. We always work as efficiently as possible, producing fast results. All items are taken to an approved waste transfer facility so that they're disposed of in an environmentally friendly manner.
Wait & Load Collections
Just got a few bulky items to get rid of? Why not try our dedicated wait and load services? This is the quickest way to get rid of waste yourself. Our vehicle will drive to your property and wait while you load. All you need to do is place the unwanted goods into the back – it couldn't be simpler!