General Waste Clearance
At RJ Waste Clearance, we specialise in general waste clearance services, meeting a wide range of rubbish removal needs.
We're an experienced waste collection company, offering solutions to ensure all general rubbish is collected on time and that services are continually delivered to a high standard.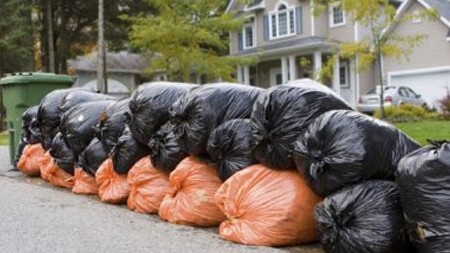 Choose Regular Waste Collections or a Single Service
We understand the need for reliable services when it comes to waste removal services, but it can be hard to find a company that meets all your requirements. Our years of experience in the industry means we offer flexible, bespoke services which we tailor to your needs.
We work with building contractors on regular contracts, including council work, refurbishments and new builds, performing daily, weekly and monthly collections.
However, we also undertake one-off collections, coming out to perform property clearances, whether it's a domestic or commercial site.
Robert was on time and did a quick and thorough job clearing the waste from our garage. We are very grateful and really appreciate his availability on short notice.
We needed some old decking collected from a site we were working on and Robert was was able to help.
It was a nice and easy transaction and everything was left clean and tidy following the pickup. We would definitely use RJ Waste again.
Great company, the guys were really friendly and polite, they came on time and finished quick, hard working and very professional, also they did tidy up the place after finishing, I would recommend RJ Waste Clearance to anyone.
During the lockdown,  I had a thorough sort out of the entire house and I had all sorts of stuff that I just wanted removed as quickly as possible. Without the space for a skip, I wanted someone with a caged truck who could just wait whilst I loaded it. Bobby was really helpful – called me when he was 10 minutes away – and loaded up the rubbish for me. Such a simple process – no hassle.
Quotation price was very reasonable, arrived on time and were very polite. Great company and will definitely use them again.
I would like to say that we were thoroughly impressed with the professionalism attitude and the all round service we received from the team of RJ Waste Clearance. The job was completed within a short timescale which in end saved us money. I would recommend their service to any friend, family or business partner!
Neil (CEO Focus Recruitment Consultancy)
Fly-tipping Clearance
Fly-tipping is not only illegal and damages the environment, but it's also an eyesore. Unfortunately, it happens more than people think, spoiling the area and creating hazards. If you'd like to hire our team for a fly-tipping clearance near you, we're happy to help. We remove general rubbish that's been dumped, as well as bulky items, cardboard boxes, builder's waste, glass, plastic and more. Let us clean up the environment to create cleaner spaces for everyone.
Wait & Load Services
Need a waste clearance in a hurry? You may prefer to opt for our wait and load collections. It's one of the most affordable, fastest ways to get rid of your rubbish if you have the time to load it yourself. When we arrive at your property – our driver waits while you load, it's as simple as that!
Why Choose Our General Waste Removals?
Flexible services – We come out to all types of property to pick up waste, performing rubbish clearances ourselves or offering wait and load collections.

Affordable – Hiring a skip can be expensive, which is why we offer property clearances and wait and load services as cheaper alternatives.

Fast removals – We help you to clear your site as quickly as possible, with our team working efficiently to remove all waste from the area.
Friendly, professional team – We're a reputable waste collection company in the area, offering reliable and professional services for every job we undertake.

Reliable, thorough clearances – We work hard to clear everything you ask us to, leaving the space clear. Take a look at our gallery to see our work in action.